We were both knackered after the nine hour drive and at half nine most of the people in our dorm were already asleep. So we went to sleep. It was a pretty good sleep, one were I had to be woken up, which I see as a good thing.
We went for a wee drive to a nearby national park which I forget the name off and can't check because terry won't get the guide book because he is watching the tennis and I can't go as I developed an allergic rash and have cream all over the place and therefore cannot be seen in public.
On the way to Hervey bay we stopped at the Bundaberg distillery so that we could do the tour and terry could get his picture taken with the giant plastic bottle.
It was interesting hearing how the different rums are made and how the barrels are still handmade by one local guy. Apparently they last a hundred years but they are not sure as they had a fire about 70years ago. It was also upsetting to hear that the taxman takes about 2/3 of the value of each barrel.
We all got two drinks in the cost of our ticket, which included drinks only available I the distillery. I was driving so I had one and terry had 3. We bought a liqueur that was only available in the distillery and was yummy.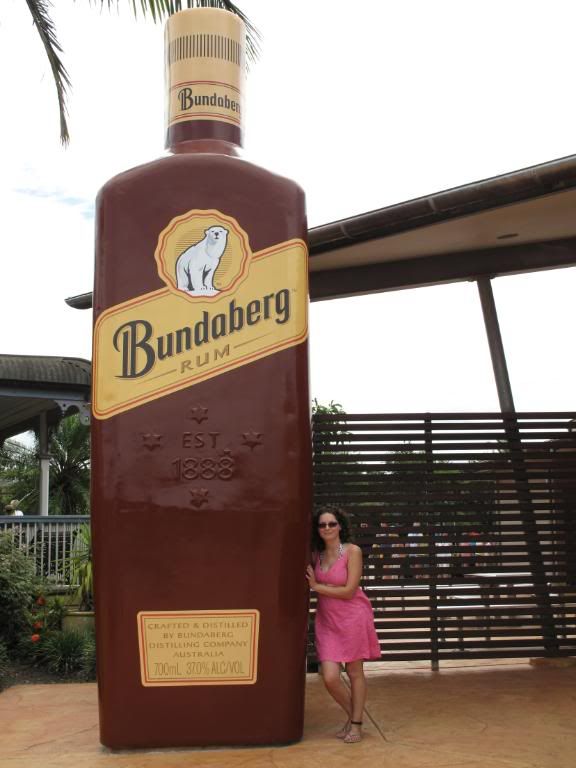 I was speeding down the road and got caught and camera so I pulled myself over. I told the officer that I was doing about 95 and I had no reason to be speeding. He asked for my licence and then suddenly had a Dublin accent and tod me drive more carefully in future. I was delighted, (chuckling), and very thankful and have stayed in the limit since.